M. Guthrie
As November 11th approaches, with it comes not only the history of great personal sacrifice and trauma – but also that of deeply ingrained nationalism. This legacy pervades current European relations, with nationalist movements taking hold in a number of countries. What has been widely recognized as a solemn occasion, one which signifies the signing of the Armistice and the end of the First World War, has since become a source of ideological contention.
Poland's recognition of November 11th presents itself as an interesting outlier of sorts. Serving as the nation's Independence Day following occupation during the war, the day serves as a reminder of the importance of the Polish national identity and independence – though has been taken to rather extremist lengths. In particular, the annual Polish March of Independence has drawn all sorts from the woodwork, inadvertently making it what has been deemed as "one of the largest far-right gatherings in the world."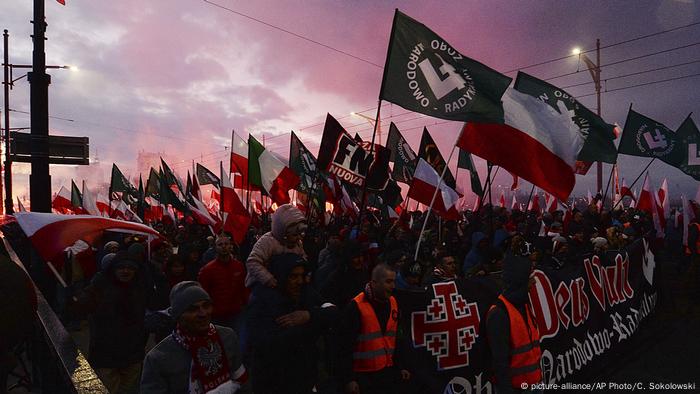 Amassing tens of thousands of participants, the event attracts far-right extremists not only from Poland itself, but from all corners of the globe – coming together to support their fellow nationalists. Frequently dissolving into violent clashes, the March has become a deeply unsettling event rife with hatred towards those who do not meet the values of the unified Polish identity.
However, the Polish government has done little to contain the event in recent years – even amidst growing concerns regarding the ongoing COVID-19 pandemic. Apart from attempts to ban the March by the Polish court, as well as recent comments made on Twitter by Warsaw's mayor, Rafal Trzaskowski (who deemed the gathering as "an unlawful assembly,") the general response surrounding the event has been lukewarm.
Though given the nation's overarching sentiments surrounding issues such as the refugee crisis, immigration, women's and LGBTQ+ rights, perhaps this is unsurprising. The presence of such ideological beliefs within Poland's government has allowed far-right thought to flourish. For this reason, November 11th serves as far more than just a celebration of national history and achievement, instead coming to represent the deeply ingrained nationalistic tendencies at play within the country.
So, independence from what exactly?
Each year, crowds flock to Piłsudski Square in the nation's capital to commemorate not only the end of the First World War, but also the end of occupation by the Central Powers – Germany, Russia, and Austria-Hungary. Free from this external intervention, Józef Piłsudski was named Temporary Head of State in 1918, going on to re-establish Poland as the independent nation-state it is today.
During his five years in office, Piłsudski worked to establish a stable house of governance, the Seym (or Sejm), developed and revitalized the national military, and established a number of allies – developing connections with Lithuania and the Ukrainian Peoples' Republic (now Ukraine). Piłsudski even went on to serve in the nation's best interest in the years following his retirement. Suffice to say, Piłsudski has maintained his position as a central figure in the nation's history, serving as an inspiration for nationalists to pin their ideologies upon.
With this historical origin in mind, it is unsurprising that swathes of the population have continued to uphold the strong sense of identity and ideals established by Piłsudski and his successors – with President Andrzej Duda evoking the memory of Piłsudski in a recent statement.
"We can safely say that those victors who not only regained the Republic of Poland for all of us, but who were also able to defend it in difficult moments, are still a model for all Polish soldiers, for Polish officers, and I do not hesitate to say – for all Poles."
Breaking or Building Barriers?
While there had been some debate as to whether the event will happen this year, it appears that organizers fully intend to push on with the March – going against government regulation and fears regarding rising COVID-19 numbers. Violence clashes with police are to be expected, as in previous years the Independence March has dissolved into chaos that has injured officers and members of the public alike. In 2020, far-right extremists reportedly set fire to a housing complex after seeing a pride flag hung in the window.
Perhaps most worrying is that there is a demonstration for women's rights set to take place along the same route – presenting an even further threat to Polish women, whose bodily autonomy has already become the subject of much debate after a near-total ban on abortion.
Despite aforementioned attempts to stop this year's Polish March of Independence, President Andrzej Duda and the Polish Government (in both their inaction and ideology) have ultimately allowed the nation's far-right perspectives to run rampant, further advertising vicious ideologies of nationalism and extremism to the broader public.